PROFIT Magazine unveils 28th annual list of
Canada's Fatest Growing Companies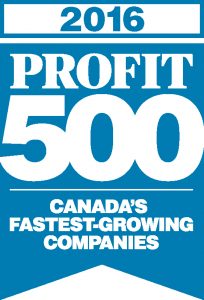 Mississauga, ON (September 15, 2016) Canadian Business and PROFIT today ranked Nexus Systems Group No. 265 on the 28th annual PROFIT 500, the definitive ranking of Canada's Fastest-Growing Companies. Published in the October issue of Canadian Business and at PROFITguide.com, the PROFIT 500 ranks Canadian businesses by their five-year revenue growth.
Nexus Systems Group made the 2016 PROFIT 500 list with five-year revenue growth of 206%.
"Companies become a part of the PROFIT 500 through innovative thinking, smart strategy and sheer grit," says James Cowan, Editor-in-chief of PROFIT and Canadian Business. "These firms demonstrate what Canadian entrepreneurs can achieve, both at home and across the globe."
Nexus Systems Group, a privately owned IT staffing agency in Mississauga, has proven itself to be an emergent market leader and has earned its ranking in this year's list.
The company offers specialized services centered on delivering quality business and technology solutions for its clients–—including staff augmentation and contract administration—and ensures that business and resource needs are always met.
For the past five years, Nexus has experienced consistent growth and currently serves numerous major clients in the financial, insurance, government, telecommunications and retail industries in North America. With the help of its dedicated expert staff, Nexus shows no signs of slowing down and anticipates that it will only continue to expand in the future.
About PROFIT Magazine and PROFITguide.com
PROFIT Magazine is your guide to Business Success is Canada's preeminent publication dedicated to the management issues and opportunities facing small ad mid-sized businesses. For 30 years, Canadian entrepreneurs and senior managers across a vast array of economic sectors have remained loyal to PROFIT because it's a timely and reliable source of actionable information that helps them achieve business success and get the recognition they deserve for generating positive economic and social change. Visit PROFIT online at www.PROFITguide.com.
 About Nexus Systems Group
Nexus is a trusted partner in staffing technology organizations throughout North America – with leading edge staffing processes and a trusted team of resourcing specialists, Nexus delivers the results you expect. Visit Nexus online at www.nexusgroup.ca or follow us @nexusgroup
-31-
For more information please contact John Salameh at jsalameh@nexusgroup.ca or Marko Radosevic at mradosevic@nexusgroup.ca or call (416) 622-1414.