PROFIT Magazine unveils 27th annual list of
Canada's Fasting Growing Companies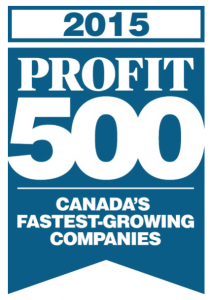 Mississauga, Ont., September 17, 2015— Canadian Business and PROFIT today ranked Nexus Systems Group No. 237 on the 27th annual PROFIT 500, the definitive ranking of Canada's Fastest-Growing Companies. Published in the October issue of Canadian Business and at PROFITguide.com, the PROFIT 500 ranks Canadian businesses by their five-year revenue growth.
Published in the October issue of PROFIT Magazine and online at PROFITguide.com, the PROFIT HOT 50 ranks young firms by two-year revenue growth.
"The PROFIT 500 represent the highest tier of entrepreneurialism in Canada," says James Cowan, Editor-in-chief of PROFIT and Canadian Business. "They should be lauded for the positive economic contributions they've made to their communities–and the entire country.  They are examples of what can be accomplished with innovation, discipline and determination."
"Nexus Systems Group is honoured to be on the PROFIT 500 ranking," says Co-Founder and Managing Director John Salameh. "This achievement reflects the strength of our service delivery and the dedication of our team." Nexus Systems Group, proven itself to be an emergent market leader and has earned its ranking in this year's list. The company offers specialized services centered on delivering quality business and technology solutions for its clients—including staff augmentation and contract administration—and ensures that business and resource needs are always met.
For the past five years, Nexus has experienced consistent growth and currently serves numerous major clients in the financial, insurance, government, telecommunications and retail industries in North America. With the help of its dedicated expert staff, Nexus shows no signs of slowing down and anticipates that it will only continue to expand in the future.
About PROFIT and PROFITguide.com

PROFIT is Canada's preeminent media brand dedicated to the management issues and opportunities facing small and mid-sized businesses. For 33 years, Canadian entrepreneurs across a vast array of economic sectors have remained loyal to PROFIT because it's a timely and reliable source of actionable information that helps them achieve business success and get the recognition they deserve for generating positive economic and social change. Visit PROFIT at PROFITguide.com.
About Canadian Business
Founded in 1928, Canadian Business is the longest-serving, best-selling and most-trusted business publication in the country. With a total print readership of more than 600,000, it is the country's premier media brand for executives and senior business leaders. It fuels the success of Canada's business elite with a focus on the things that matter most: leadership, innovation, business strategy and management tactics. We provide concrete examples of business achievement, thought-provoking analysis and compelling storytelling, all in an elegant package with bold graphics and great photography. Canadian Business—what leadership looks like.
About Nexus Systems Group
Nexus is a trusted partner in staffing technology organizations throughout North America – with leading edge staffing processes and a trusted team of resourcing specialists, Nexus delivers the results you expect.
Visit Nexus online at www.nexusgroup.ca or follow us @nexusgroup